Amgen Korea Celebrates New Office Opening and Starts Marketing Activities in Earnest
SEOUL, Korea (June 2, 2016) – Amgen Korea today held an event to celebrate its new office opening and its promising serving patients in Korea. Amgen's Korean affiliate officially opened in Seoul in November 2015, and recently announced the market launch of two medicines, Kyprolis® (carfilzomib) and BLINCYTO® (blinitumomab).
"Amgen looks forward to being an active member of the local biotechnology community and helping to advance the growth of this industry in Korea," said Amgen Korea General Manager Sang Noh. "Amgen Korea is committed to continuing to provide innovative medicines to Korean patients, in accordance with our global mission to serve seriously ill patients," Noh added.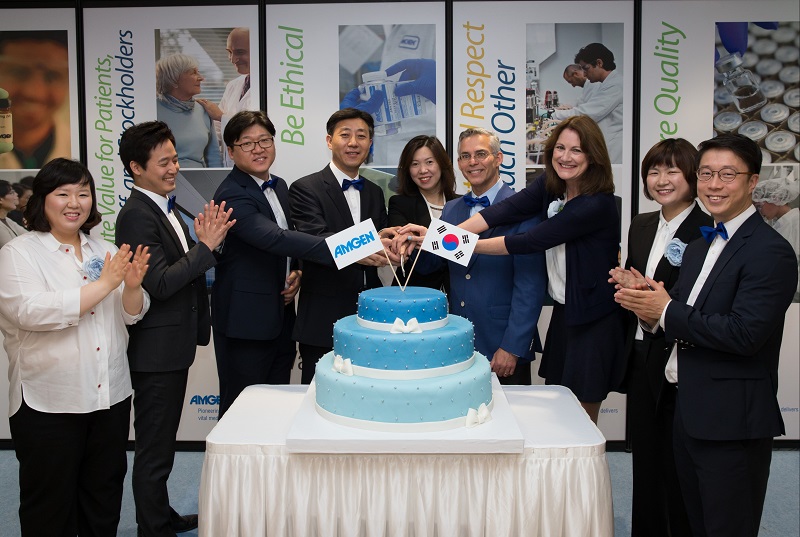 Amgen Korea employees celebrating a new start in the office, and promising a successful execution of the marketing plan
# # #
About Amgen
Amgen is committed to unlocking the potential of biology for patients suffering from serious illnesses by discovering, developing, manufacturing and delivering innovative human therapeutics. This approach begins by using tools like advanced human genetics to unravel the complexities of disease and understand the fundamentals of human biology.
Amgen focuses on areas of high unmet medical need and leverages its expertise to strive for solutions that improve health outcomes and dramatically improve people's lives. A biotechnology pioneer since 1980, Amgen has grown to be one of the world's leading independent biotechnology companies, has reached millions of patients around the world and is developing a pipeline of medicines with breakaway potential.
For more information, visit www.amgen.com.
# # #
MEDIA INQUIRES: Edelman Korea, Seoul
Jane Park, Senior supervisor (82) 10-9307-7188 (mobile) or (82) 2-2022-8203 (office)
Binnali Do, Supervisor (82) 10-7773-1794 (mobile) or (82) 2-2022-8226 (office)